These lovely beef kofta wraps are perfect for a balmy spring or summer evening. They are lovely and fresh with plenty of flavour as is, yet you can play with the mix of spices to your hearts content.
You can also double the batch to maximise your kitchen efficiency. Then just form some into balls (think small meatball sized ones) for lunchboxes and quick protein snacks, or to freeze ahead for a busy week or for tomorrows lunch. Hmmm, now I'm dreaming of a warm salad, anyone else?
These would be just as delicious with some lamb mince instead for a flavour variation or for those who don't like beef.
When it comes to serving, feel free to add any extra salad or vegetable items you desire to serve.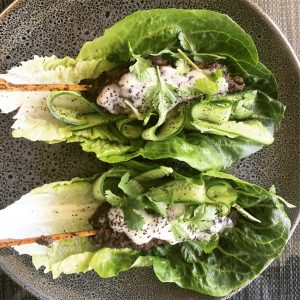 For the Kofta:
500g grass fed beef or lamb mince
1 onion
½ cup fresh flat leaf parsley leaves
¼ to ½ cup fresh coriander leaves
2 cloves garlic
1 heaped teaspoon ground cumin
½ teaspoon ground coriander
¼ teaspoon allspice
¾ teaspoon salt
¼ teaspoon freshly ground pepper
Yoghurt dressing
½ cup natural yoghurt (we used coconut)
½ teaspoon ground cumin
¼ cup fresh mint leaves (loosely packed)
Juice of ½-1 lemon (to taste)
Sprinkle ground garlic powder (to taste)
1-2 tablespoons olive oil
Salt to taste
To serve:
Large Lettuce leaves (we used cos) or your choice of wraps
Sliced/shaved cucumber
Optional Extras: coriander leaves, sliced tomato, sliced red onion, pickles, hommus
8 Bamboo skewers
Method:
Soak your bamboo skewers in water for at least 30 mins.
Mix your dressing ingredients: Chop the mint finely and mix with all the other ingredients. Taste and adjust to your liking.
Place the onion, garlic and herbs in a food processor. Pulse to chop finely. Add the mince, spices, salt and pepper and process again until well blended and is a relatively smooth paste.
Using clean hands, gently form about an 8thof the mince mixture around a skewer, squeezing gently to press it together and form the kofta/kebab shape.
Cook on a hot BBQ plate for about 8 minutes- turning regularly to brown it evenly all over.
To your choice of wrap/lettuce leaf, add your choice of toppings and a kofta. Drizzle with the dressing and sprinkle with added coriander leaves.
Enjoy!
Sandi Cooper is an experienced Naturopath working in clinical practice for almost two decades. Her clients love her down-to-earth approach and her naturally caring qualities. Although Sandi is experienced in most areas of clinical practice, she has a special interest in children's health and nutrition, working with parents to get the best outcomes for their children.
Subscribe to our newsletter