Simple Chickpea Crackers- Gluten, grain, dairy and egg free
I first created these chickpea crackers many years ago as I needed an allergy-friendly, gluten and dairy free cracker to serve at a birthday party. Due to the eclectic nature of our friends food sensitivities it also needed to be free from rice, corn, soy, sugar and egg.
Thank goodness for chickpea flour (also known as Besan)!
So, these simple chickpea crackers were born. Being nut and egg free, they are also suitable for the majority of school lunchboxes too.
These are incredibly easy to make, a one bowl wonder if you like. Then just roll them out, cut into shapes and bake. The recipe forms a simple base, and then you can play with the flavour by changing up the extra additions to your liking.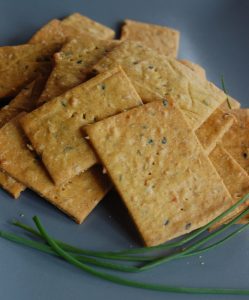 The base:
1 cup chickpea (besan) flour

1/2 teaspoon salt (optional)

1 tablespoon olive oil

1/4 cup water

1/2 tsp baking powder (optional but will make them a little higher and lighter)
Flavour Variations:
1 tbs sesame seeds, white or black

2 tablespoons fresh chives, thyme, rosemary, or any herb of your choice

1/4 tsp paprika

Dukkah- either mixed through or sprinkled on top

A tablespoon or two of chopped dried fruit- figs or apricots would be nice.

Nutritional yeast, for a cheesy flavour
Method:
Preheat your oven to 175C.

Sift together the chickpea flour and salt into a medium bowl. Stir through your optional flavourings and the make a well in the center.

Mix the water and olive oil together, then pour into the well. If it feels too dry add a little more oil, too wet a little extra flour.

Stir until combined into a dough, then form a ball.

Place the ball of dough between two pieces of baking paper, and roll out until as thin as possible or to your preference.

Remove the top layer of baking paper, then cut into desired shape using a pizza cutter or wet knife. Prick the surface of each cracker with a fork, then transfer the sheet to a baking tray.

Bake for around 15 minutes, or until golden brown.

Remove from oven, then allow to cool before breaking crackers at pre-cut edges.
What is your favourite flavour combination when it comes to savoury crackers?
Let us know what you think if you try them!
Sandi Cooper is an experienced Naturopath working in clinical practice for almost two decades. Her clients love her down-to-earth approach and her naturally caring qualities. Although Sandi is experienced in most areas of clinical practice, she has a special interest in children's health and nutrition, working with parents to get the best outcomes for their children.
Subscribe to our newsletter