This apple, fennel and green bean salad is a favourite of mine, which pairs perfectly with seasoned pork chops.
I'm not exactly sure what it is, but the combination of the fresh fennel, sweetness of the apple and crunch of the lightly blanched beans goes so well together. For those not in to pork, this salad would honestly work with any protein- grilled fish, baked salmon, or lambs steaks come to mind!
It's a great midweek meal and family friendly to boot. If you are unsure about your kids taking to the salad, you can serve it with extra steamed vegetables, or salad ingredients you know they are happy to eat. That way if they turn their noses up at the mixed salad, there's still plenty of options on hand to cover their vegetable intake. Whilst it does require a tiny bit of time to blanch the beans and make the salt rub for the chops, it's minimal, and so worth the extra effort in the flavour department I think.
We've found it to keep well too, and as it's equally delicious as leftovers the next day, I suggest you make a bigger batch and cover yourself for tomorrow.
"Cook once, eat twice"- a common motto in my sessions with clients around maximizing outcome for effort in the kitchen.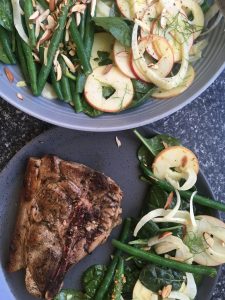 Ingredients
Pork chops
4 pork chops (we used shoulder chops)
1 tablespoon rock salt
1 teaspoon fennel seeds
1 teaspoon dried rosemary
Salad
300g green beans (topped and tailed)
½-1 fennel bulb (or 1-2 baby fennel). More if you love fennel, less if it's new to you
2 small royal gala apples, thinly sliced
2 tablespoons lemon juice
2 handfuls baby spinach leaves
¼ cup toasted almonds (chopped or sliced)
Dressing
1/3 cup extra virgin olive oil
¼ cup apple cider vinegar
2 teaspoons dijon mustard
1 teaspoon honey
salt and pepper to taste.
Method
Blanch beans in boiling water for 30-60 seconds. Drain and place beans into a bowl of iced water. This stops the cooking process.
In a mortar and pestle grind the fennel seeds to release their flavour. Add the salt and rosemary and grind gain to break up the salt crystals and infuse the flavour.
Rub each of your chops with the seasoned salt. Cook on a hot BBQ for 3-5 minutes each side, depending on how thick your chops are and how you like your pork cooked.
Set aside to rest for 10 minutes. While it is resting, make the salad.
Trim the top off the fennel bulb, reserving some of the fronds. Remove the core and slice thinly (a mandolin makes it a quick and easy job). Toss with 1 tablespoon of the lemon juice and set aside.
Thinly slice the apples and toss with the remaining lemon juice.
Arrange the spinach leaves in a wide shallow salad bowl.
Add the fennel, apple and the green beans drained from the iced water.
Mix your dressing by combining all ingredients and whisking well until smooth. Taste and adjust seasoning to your preference.
Dress your salad, tossing well to coat all ingredients evenly.
Garnish with the toasted almonds and reserved fennel fronds and serve with the pork chops.
First created for Deagon Bulk Meats.
Sandi Cooper is an experienced Naturopath working in clinical practice for almost two decades. Her clients love her down-to-earth approach and her naturally caring qualities. Although Sandi is experienced in most areas of clinical practice, she has a special interest in children's health and nutrition, working with parents to get the best outcomes for their children.
Subscribe to our newsletter