Chicken Karaage is a Japanese fried chicken. These tasty little bite sized morsels make it an extremely popular dish, and common to find everywhere from street vendors to restaurants, from bento boxes to the Japanese home.
Traditionally the chicken is marinated in base of soy, sake and ginger, tossed in flour and fried in vegetable oil. Whilst it may be crispy and delicious, it's not a brilliant combination those of us who are gluten free, or prefer to avoid or limit vegetable oils.
So here's an alternative that's gluten free, and baked vs fried. If you'd prefer a fried version go for it.
I like to serve them with a big Asian coleslaw as pictured to make a full meal. If your family is less fussy I'd throw all the herbs and spring onions through the salad too to save on washing up.
These would also be perfect with a mixture of other snacks for a tapas style feast, or as a nibble or bring-a-plate idea for social gatherings.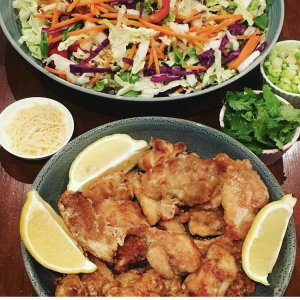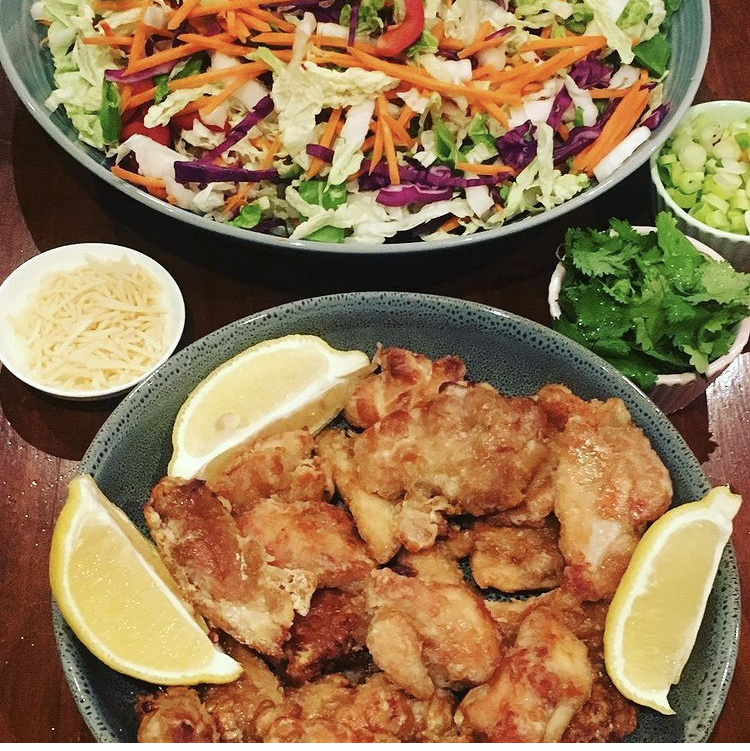 Ingredients
1kg Chicken thighs
3 tbsp gluten-free soy sauce or tamari
2 tablespoons sake. You can substitute for Chinese rice wine or make alcohol-free with a 1:3 mix of Rice wine vinegar and water
¼ teaspoon sugar (I used Natvia)
1 clove garlic, crushed
1 teaspoon finely grated ginger (up to 1 tablespoon)
¼ cup Potato starch (or cornflour or a flour you tolerate)
Lemon wedges to garnish and squeeze over to serve
Method
Mix the soy, sake, sugar, garlic and ginger in a lidded container large enough to fit the chicken.
Cut thighs into rough pieces, around 4cm x 4 cm pieces or approximately 3-4 pieces per thigh. Add to the marinade and allow to marinade for at least a couple of hours, ideally overnight.
Preheat a fan-forced oven to 180 C.
Coat each piece of chicken in the potato starch and place on a baking tray lined with baking paper or a silicon mat, making sure they are evenly spread and not overlapping.
Spray with olive oil and bake for 15-20 mins.
Turn them over and bake for a further 10 mins until golden all over.
Serve with fresh lemon wedges.
Sandi Cooper is an experienced Naturopath working in clinical practice for almost two decades. Her clients love her down-to-earth approach and her naturally caring qualities. Although Sandi is experienced in most areas of clinical practice, she has a special interest in children's health and nutrition, working with parents to get the best outcomes for their children.
Subscribe to our newsletter